Naruto
Posts

26
Location
Age

21+1
Gender

Male
Species

Human
Occupation

DI Investigator
Alignment

True Neutral
Relationship Status

Tired and Single
Profile
Organizer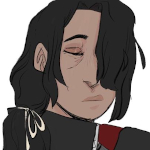 @Lenalee Lee
| May 20th, Year 109 | Breakroom, 10:34 AM
He had been employed at Daye's Investigation for just over a week now. What work he's done so far has been satisfying, and the people nice. In a way, it reminded him of the home he had left behind all those years ago. It was a nice break from the organization he had once been part of. While he has yet to familiarize himself with all of D.I's members, thus far they have proved themselves far more hospitable than the Akatsuki. It was a low bar to clear -perhaps the lowest- but that was one comfort in this strange land. The Pantheon had interrupted his plans in irreparable ways, but Pandora itself was pleasant so far. That said, he still could only hope that his stay would a brief one.
As a newcomer, his workload was still incredibly light. He had worked through what cases were given to him thus far, though there was still one remaining. A robbery, non-fatal though the culprit had managed to escape with merchandise he had stolen from a store. Police officers had hit their own brick walls during the investigation, and once the files were brought over to D.I, he was the one fortunate enough to receive them. The folders were spread out in front of him on one of the breakroom tables, a cup of tea sitting by his hand.
There was a police sketch of the thief, and he had sat them by photographs of suspects that the local department had found. Crime-scene photos were lined up opposite of his cup, though there was nothing left to be gleaned from them. TTV footage was blacked out. Only one eye-witness (an employee), one he'd spoken to the day before. His notes, scribbled neatly onto a paper on top of a report, were filled with the facts he had unearthed. A diagram of the timeline, a sketch of the store and its escape routes, a list of what was taken. It would seem that even he was hitting those same walls.
It was his break, but Itachi never felt truly comfortable anymore unless buried in work. He pushed his glasses up the bridge of his nose as the door to the breakroom opened with a loud
squeak.
He glanced at his coworker before nodding his head in greeting.
"Good morning, Lenalee."
She was the receptionist who worked at the front lobby, pleasant to speak to though they've never truly
talked.
Sometimes he would see her with a blond, though he was someone Itachi had yet to meet at D.I.
Last edited: