Naruto
Posts

26
Location
Age

21+1
Gender

Male
Species

Human
Occupation

DI Investigator
Alignment

True Neutral
Relationship Status

Tired and Single
Profile
Organizer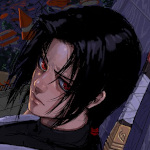 @Dante
| May 25th, Year 109 | Abandoned Lot, 8:38PM
Originally the case belonged solely to an investigator named Dante, a man whom Itachi had yet to meet. Given his fledgling status, he was assigned to tag along with the senior, to get some
experience
as he was told. He had no qualms with essentially being babysat, though hopefully, his colleague would allow him to help. While it was his first case to involve murder in Pandora, he was no novice to the field. Their job was to hunt down the killer of their victim, and he had plenty of
experience
in that regard. The only change however was the target in question - the culprit was something supernatural.
That would be a first. For everything that existed in the Elemental Continent, the closest things that came to traditional monsters were the Tailed Beasts and the Akatsuki. There were the summoning creatures, but from the suspected
creature types
that were listed in the file, Itachi doubted that they came close. The current running theory was that a demon had killed Malcolm Ement, leaving behind a bloody crime scene. The notes that were attached to the police report stated that there was a slight smell of sulfur and the ferocity of the attack. The photographs had been especially gruesome, though a lifetime of gore had strengthened his stomach to such a sight.
The dusk sky was steadily growing darker by the time he arrived at the taped-off scene. Law enforcement was a lingering presence waiting for their appearance, and his mentor had yet to arrive. His only companion in the encroaching night was the croak of closeby crickets and distant car-horns. After a moment's pause, he ducked beneath the caution tape and cautiously approached the body-marker. Evidence of the crime still sat undisturbed, the only missing part being that of the corpse himself. Aside from that, the police officers had done a routine job of leaving the scene as pristine as it could be. Perhaps there would still be traces of where the demon had run off to, though pursuit would have to wait until Dante had appeared.
That said, he still wandered the perimeter of the scene. Black eyes bled red as the Sharingan slowly whirled awake, the tomoe lazily circling. Details became sharper, eliminating the fuzzy static that had previously plagued his vision. There was an overturned rock towards his left that inevitably attracted his attention. He was inspecting it by the time another approached, his finger swiping over one bloodied face of the stone. From the looks of it, it had been overturned when their culprit had fled the scene of his meal.
"It looks like it fled south."
Itachi murmured in place of a greeting as he dropped the rock back to the ground.
Last edited: