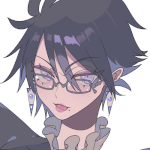 @Dante
| June 11th | Crescent Cathedral Cemetry
Who would've thought that a phenomenon of people reviving from the dead a mere 24 hours after their death would be bad for the funeral business? She's been in Pandora for barely two weeks, and it seemed like this pantheon of "gods" enjoyed dicking around with her just as much as her world's did. It was one thing to kidnap her from the climax of her fight with Loptr, it was another to drop her during the middle of this mess. It wasn't even a proper vacation given that both Demons and Angels seemed to roam this dimension, too. Bayonetta could sense them lingering in not only the Other World, meaning that there was plenty of work for her. What a bother.
Crescent Cathedral was as good of a place as any other to set up a shop. A holy building was all she needed, the nun side-gig was just a bonus to get away with simple work. Undertaker duties had always been easy, giving her easy and ample access to both the cemetery and the crypt. If a few gravestones ended up wrecked, or god forbid, the pastor's
expensive
and
laundered
car in the nearby parking lot, well, she hadn't seen anything. What were they going to accuse her of? Being a witch that summoned demons to terrorize the church? That's rich. It was angels she was baiting.
Except, that's apparently what had happened. That's the only reason she could imagine as to why someone so obviously armed would appear after visiting hours during her shift in the cemetery. Irritating given that she was finishing some rites in order to fulfill her contract. Not all the angels that she tempted over to the Cathedral had been angels of Paradiso, but they were holy nonetheless, and perfect chew toys for her demons. It'd be a shame if he got caught up during their playtime, especially given how they were bound to arrive any time soon.
"Are you lost, White Rabbit? You seem far from home,"
Bayonetta teased as she snapped her book close, tucking it beneath her arm. Despite her
calculated
carefree demeanor, she kept a critical eye on the hunter. There was something
off
about him that reminded her of Inferno, but nothing concerning. If he was a friend from down south, she knew plenty well how to tango with him.