Naruto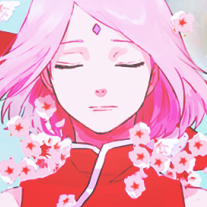 Sakura didn't quite get 'Thanksgiving'.

The holiday wasn't something that she'd even heard of in any of the villages as opposed to the other things that people celebrated. There was Parent and Child Day, the Rinne Festival (that some people in this world apparently called... Christmas?), the ever-interesting 'Quarrel' Festival where people debated superiority over cats and dogs, but no Thanksgiving. Though, she wasn't the obstinate youth that she used to be anymore thanks to the wisdom and peace she'd found in her maturity, so she wasn't entirely opposed to celebrating something new to help them feel.... more at home in Pandora, since that was really what it was to them now. Gone were the days of Hokage and warring states and weird moon gods that seemed to come out of nowhere, but replaced by the council of Ark City and the regions that neighbored them in times of peace and mysticism-- and also cool flying cars? Holy shit, she couldn't get over that.

So, there'd she found herself-- in the kitchen of her brand new home, with her husband (though, technically probably not married as inter-dimensional travel seemed to hypothetically to give an automatic annulment, so they'd have to go renew some vows in the future-- but hey, it's a house and a family), her foster daughter who was... gone for the day, of to God knows where on some art project at most likely, (She didn't understand Michelle's pieces, but she was supportive of the process.), and the headless carcass of a hollowed-out bird that needed a slow, but warm bake for the next handful of hours.

Her laptop sat open on the counter, a sketchy website dedicated to... interestingly inspired holiday recipes that seemed to catch her eye, but in ways that seemed to be particularly out there. In fact, she even questioned why anyone would be putting Halloween pumpkins in leather fetish harnesses and the purpose behind them, but she wasn't going to be the one to open that can of worms. ...At least, she wasn't until she'd heard the morning stirring of her life partner somewhere in the distance of the house, and the unfortunate surprise moaning of a pop-up advertisement with a nude woman and a turkey baster doing illicit, turkey baster things that just refused to close.

... Maybe it wasn't a bad idea to invest on one of those anti-virus things.