Magi
Adventurer of the 7 Seas
Posts

118
Location
Age

20
Gender

Male
Species

Human
Occupation

Mercant Coterie Head
Alignment

Chaotic Good
Relationship Status

Stupid Rabbit
Profile
Organizer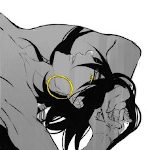 @Lavi
| February 14th | Redwood Row, Cascade Bay
Valentine's Day was a holiday whose premise caught his eye despite his relative disinterest in romance. Despite his theatrics and
flirty
nature, rapport with another was never a goal of his. Not only was he married to his ambitions, he lacked that integral naivety required to believe in a relationship. It was a luxury he easily lived without. That said, Valentine was something so easily
exploitable.
Sinbad could recognize that he was a greedy man and that his lust was an itch he never could fully satisfy. Admittedly, it was one of the few comforts he indulged in, alcohol being a second one.
He had begun his day with not one date planned, but two. The first was a
treat
that he had impulsively signed up for through Crush and Burn. Its program was too enticing to overlook - a randomized date at a dream location? Sinbad didn't have any faith in its
algorithms,
but at the very least, he'd meet some new individual and enjoy himself. His date was pleasant for what it was, and it gave him an opportunity to go
fishing.
It had been far too long since he was able to enjoy such a simple past-time, especially at a beach as nice as the one that they had been at. By the time they decided to draw their time together to an end, he had a good basket of fish and a pleasant mood.
His second date was the product of
flirting.
By this point in his life, it became a part of his regular vernacular to speak under the guise of an amorous persona. It was the one aspect of himself that he never truly lost, as pathetic as that seemed. Alas, it made for good fun and that was all that mattered at the end of the day. If his teases were requited by whatever person that had captured his interest, then that just made it better. Playful words escalated though a relationship never formed beyond the past few days (he always nipped it early in the bud). Regardless, he always enjoyed himself with his little games. What was a surprise, however, was when a redheaded archivist fell to his charms.
Their relationship began innocuously enough, as coworkers who were something akin to friends. Their pleasantries were far more than simple courtesy, and their coteries offered ample opportunity to run into one another. Their encounters evolved from simple small-chat to drawn-out conversations hidden behind some column or another. The small mention of a vacancy on this day in particular was the only invitation that Sinbad needed. What a coincidence that he would be free by dinner-time, right?
They mutually agreed to keep it simple and to simply dine at his apartment. Their meal would be pasta with the fish that he had caught earlier that morning, a result of some minor, off-handed thing that Lavi once mentioned. Why such a tidbit clung to the cobwebs in his mind was beyond him, but at least Sinbad knew
that much
would impress his newfound friend. It was unusual, but a small part of himself couldn't help but anticipate the other's arrival. When he heard the knocks at his door, he all but jumped to his feet to answer.
Last edited: