Hey everyone! So, as you might have heard/read, we are currently planning to upgrade Pandora to XenForo 2.1 sometime in the (hopefully nearish) future. I'll be using this thread to keep you all up-to-date on the progress of that and what to expect. I'll have more details as we get closer to the actual date of the move (once I determine when that will be!).
If you want to see our reasons for this move and some of the factors that came up, check out
this thread
!
Donations to Fund the Transition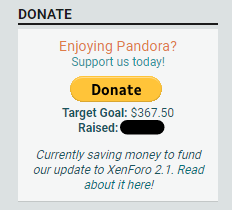 Check out the donation button in the sidebar! Amount raised does not include the percentage that goes to Paypal with each transaction.
​
Our target goal has been reached! Thank you, everyone!
​
In order to transition to XenForo 2.1, we'll need additional money in order to fund the creation of a new sub-accounts add-on, as well as purchase new licenses for XF 2.1 for a couple of other add-ons that provide functionality we currently use. Any contribution will help. If we don't reach the target goal from community donations, the rest will be coming out of my own pocket, so we will be moving forward with the upgrade regardless.
If you'd like to donate, check out the donation button in the sidebar!
What is the Donation Money For?
Subaccounts Mod ($300).
I've partnered with
Chronicles RP
in commissioning the creation of a new Subaccounts Add-on for XenForo 2.1. Work has already begun on development of the add-on. The full cost is $600, but since we're splitting the cost with Chronicles RP, we'll only be paying $300 on our end.
Theme Updates ($17.50).
Our Into the Void and Into the Light themes both use the same base, purchased theme to build off of. Fortunately, we get a 50% off discount for upgrading to the XF 2.1 version of the theme.
Tag Essentials ($40).
This provides some additional functionality for tags, that enabled us to setup forum-specific tags and a couple other useful things that we use tags for on Pandora.
[BD] Medal ($10).
This is, as you probably have guessed, what our medals system comes from.
What are we losing?
I've gone through all of the add-ons and customizations we currently use on Pandora, and there are some that don't have an equivalent for XenForo 2.X. Others are now obsolete as their functionality is a core part of XenForo 2.X.
Here are some of the more notable features we're definitely going to be dropping.
Select Advanced BbCodes.
Some of our more complex BbCodes come from an add-on. While there are plans to port the Add-on over to XenForo 2.X, that has not yet happened and the developer has no estimate on when it might happen. These BbCodes include:
Slider
Tabs
Fieldset (honestly, this one is super simple, I can probably code it back in easily enough)
Accordion
If or when this gets ported over to XenForo 2.X, I'll be re-implementing these.
FAQ.
The developer has stated they are planning on upgrading the FAQ Add-on and has already begun on it. It's expected to be released sometime in Q1 2019. Seeing how it's already March and I haven't seen any additional updates on it yet, I'm not sure how accurate that timeframe still is. Either way, we might be without the FAQ page for a little while.
MarkitUp XenForo Integration.
This is what adds the bbcode buttons to the plain text bbcode editor. There are no plans to update it to XF 2.0. Without this add-on, you can still use bbcode on posts while using the plain text editor. You'll just have to manually type it all in and won't have the bbcode buttons anymore. I'm currently keeping my eye out for a viable alternative.
Features with a Fuzzy Future
So, one other big thing I need to do is learn how to actually code on XenForo 2.X. The backend and add-on creation process has greatly changed compared to 1.X. So, all of the custom modifications I did for Pandora will need to be rewritten. I'm not sure how long this is going to take, and I'm also not sure if I want it to hold us back from upgrading to 2.X. So, adding them back in might wait until sometime after the move. This includes a few things, but the big two are the canon list and the reservations system. If those do get delayed, we'll go back to doing things the old-fashioned way.
New Features???
XenForo 2.X has a lot of exciting things on the backend. But there's some cool new stuff that's shiny and front and center for you guys. Here's just a small sampling:
Emoji Support
All textual content in XenForo 2 now supports emoji, from message text to forum titles.
Alerts in Favicon
When new alerts or unread conversation messages are available, the site icon (shown in the browser title bar) will have a badge added to it, showing that there are items waiting to be viewed.
Custom Thread Fields
This is, admittedly, one that is more for me than you guys. But then I can turn it into cool stuff for you guys. Basically, I can setup additional fields for you all to fill out when creating a new thread. The big one I've wanted this for is to add a Timestamp field to threads. This will lead to us being able to automate an Open Threads listing, including the thread date right there on the list. Could also add a summary field to pull into that same Open Threads listing!
BbCode and Rich Text Editing for Profile Posts and Comments
Creating profile posts and comments will now allow you to use the rich text editor, full BB Code, smilies and everything else that comes with it.
Reactions
As an extension of the Like system, it will be possible to add Reactions as well. The available Reactions are fully customizable (from icon to label), so we can make the experience unique to Pandora.
Content Bookmarks
XenForo will now be providing a way to easily save threads and posts in order to go back to it later. You'll be able to bookmark a post, give that bookmark a description, and any custom labels you would like.
And you'll be able to view and filter your list of bookmarks:
Questions and Discussions
Aaaaaand, that's about it for now. I'll update this thread once I have more information. And especially once I have a timeline. Though a lot of it depends on the process of the subaccounts add-on.
Last edited: